The main library at UCDhas taken its name from a famous Irish write James Joyce. The admission to the library requires a UCD ID card. Last Wednesday I obtained a temporary library card (shown above) by showing the letter from Chris (who invited me to UCD). Then I explored inside the library. The library building is facing a lake (shown below, taken last May) and you can see the lake from the study area of the library.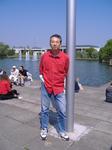 This tranquil study environment reminded me of the Poynter Library at USF St Petersburg campus, which is located in front of Bayboro Harbor. I visted there several times when preparing for PhD Qualifying Exam. Unfortunately, there won't be many chances for me to utilize this card and enjoy this atomosphere as most of the things I do here require me to sit inside my office in the ENG building.
On Friday, I finished some task (among other things, off course). Hope it turns out to be a good result...